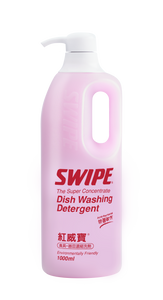 Super concentrated formula. Equivalent for 3 liters of normal detergents. Cleans your dishes with only a few droplets!
Hard on grease but soft on hands! Apply a droplet or two onto a sponge. The rich lather provides effective cleaning power. Contains special moisturizing agent, especially suitable for those with sensitive skin. Test in Germany proved the SWIPE Dish-washing Detergent is harmless to the skin under normal use.
Easy to rinse, unlike other detergents. Saves time and effort!
Anti-bacterial formula inhibits bacterial growth on dishes, utensils, and sponges. Eliminates the formation of malodor on sponges/dishcloths.
Directions for Use
Apply onto a sponge. Wash and then rinse off, leaves dishes/utensils sparkingly clean.
Shelf Life
3 years from the date of manufacturing
Have used this product for the last 30 years.
Very reliable product.
Thank you for your support all these years!
The Super Concentrate Dish Washing Detergent Pump 1000ml
A Little Goes A Long Way!
The washing detergent is very foamy, able to wash quite a number of dishes with very squeaky clean feeling with just a very small amount of detergent. Hands doesn't feel dry after use.